With a near perfect climate and pristine views, Napa Valley is the perfect year-round travel destination. But being such a desirable location, narrowing down the date & details of your trip well in advance is a must. We have some tips to help you plan the perfect Napa Valley trip and create memories that will last long after the last drops of wine have been drunk.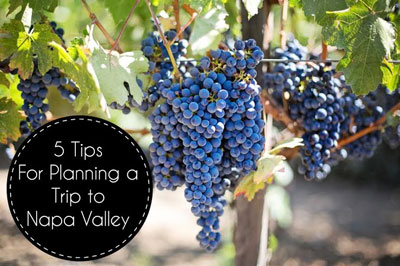 Late August through October is Napa Valley's busiest time of year due to the harvesting of wine grapes. This is the time to visit Napa Valley if you want to get the full winemaking experience (harvesting the grapes, making the wine, and storing it in wine barrels, etc.) Keep in mind that it can be difficult to book reservations for hotels, restaurants, and winery tours during this time with so many people visiting the region. Be sure to book accommodations far in advance.
Napa Valley has beautiful fall foliage! Even after the harvest has ended fall is still an excellent time to visit Wine Country. Plan a trip in late October through Thanksgiving to experience some great sight seeing. The temperature can be in the 50's and 60's so pack those sweaters and boots.
Quiet season in Napa Valley is January through March. This is the time to visit if you want a relaxed and leisurely weekend with the added bonus of lower hotel rates. The weather can be a bit unpredictable during this time of year so check the forecast and plan accordingly.
Another slow time to visit Napa Valley, and our favorite, is the time between Thanksgiving and Christmas as preparation for the Holidays are underway for many people. Wineries and local attractions will not be as busy and the wineries and towns in the Napa Valley are all dressed beautifully for the holidays.
There is always something to do during the summer months in Napa Valley. The days are warm (80's sometimes 90's) while the evenings are refreshingly cooler. This means perfect conditions for winery tours, outdoor concerts, and summer events. This is a busy time, especially on the weekends, so make your reservations well in advance.