Wine caves date back to the 1800s, when European immigrants brought their wine expertise to the Napa Valley region. These cool and damp underground constructions were ideal for the aging and storage of wine. Additionally, wine caves meant that more of Napa's valuable land would be available for the growing of grapes.
Over the years, wine caves have evolved from storage solutions to remarkable experiences. From private kitchens to exhibit halls to high-end interiors, it seems that Napa's most exclusive and intimate events are being housed underground.
Perhaps one of the area's most notable wine caves is the 14,000 square-foot wonder at HALL Rutherford. Located under the Sacrashe Vineyard, the cave is made of limestone and 19th century handmade Austrian bricks, each featuring a family crest. Owners Craig and Kathryn Hall are avid art collectors, and thus, you'll discover more than 35 contemporary works of art on display in the cave alcoves.
The cave's crowning jewel, however, is the dazzling Rutherford Chandelier Room. At the center of the room is an impressive cherry wood table with inlaid white onyx, and hanging from above—the undeniable focal point—a chandelier consisting of 1,500 Swarovski crystals. Designed by Donald Lipski, the sparkling chandelier represents the appearance of grape roots in soil.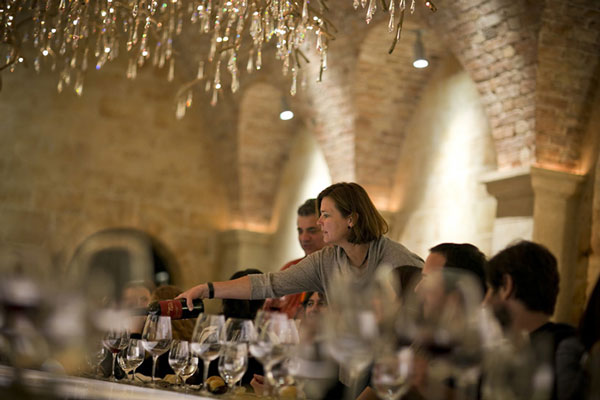 One could also say that it represents the luxury and glamour of one of the ultimate experiences in Napa.
Photo credit: Hall Wines